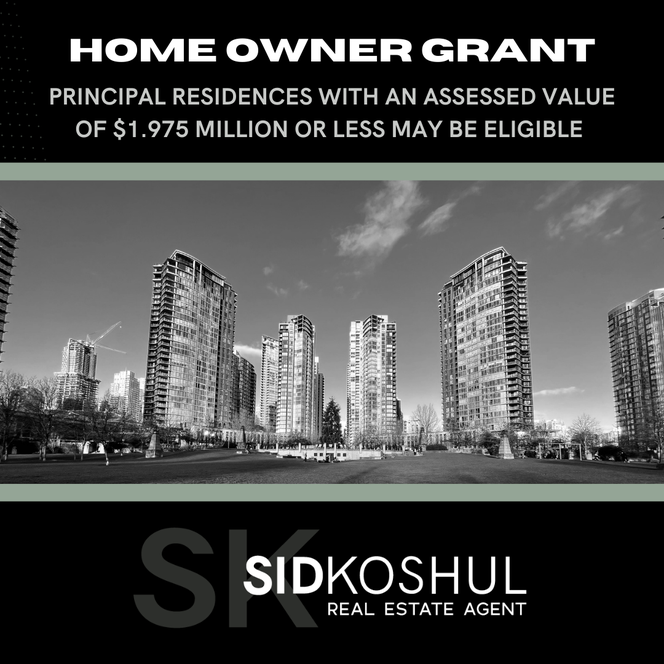 HOME OWNER GRANT: Principal Residences with an Assessed Value of $1,975,000 or less may now be eligible
The Provincial government has announced that the threshold for claiming the Home Owner Grant (the "HOG") has increased to $1.975 million for 2022. The purpose of the HOG is to provide homeowners in British Columbia a bit of a break on the amount of annual property taxes payable on their principal residences.
Amount of Grant
Savings for those living in Metro Vancouver, the Fraser Valley and Capital Regional districts can save $570 a year for the regular grant, or up to $845 for those in certain circumstances, including those with a disability or who are older than 65.
A reduced or partial grant is available for those homes assessed above $1.975 million but below $2.089 million, with a higher threshold available for those living in certain rural areas.
Qualification Requirements
Additional requirements for qualifying for the for the HOG include the following: (1) you must be the registered owner of the property; (2) you must be a citizen or permanent resident of Canada; (3) you must reside in the property, unless certain exemptions apply; and (4) the property must be your principal residence (as defined by the Provincial government).
How to Apply?
You must claim the HOG each year to receive it and only one grant can be claimed for a property each year. Application requirements may vary depending on where your home is located, but you'll receive information on how to claim the grant, along with an application form, when you receive your annual property tax notice from your Municipality or the Province.
Check out the following link to learn more about the Homeowner Grant:
https://www2.gov.bc.ca/gov/content/taxes/property-taxes/annual-property-tax/home-owner-grant#about
The content provided above is for informational purposes only and should not be relied upon. All information should be verified by obtaining tax related advice from an Accountant or Tax Lawyer. Written as of January 16, 2022.